I became a freelance developer because I love creating websites truly suited to my clients' priorities.
I know that putting your business in the hands of a developer is stressful. Will they understand what is important to you? Be respectful of your budget? Leave you confused with jargon?
I am a Service-First developer. I spend the time getting to know you, your needs, and your competition. I focus on how your website can draw attention to what makes you unique.
Tech support
$70.00/hour (Established clients receive a 20% discount.)
Sometimes you just need a little help. Perhaps you started building your site on a platform that promised it would be easy-peasy from start to finish – but now you're stuck. Maybe you thought you would blog every week but your last entry was three years ago and it's a little embarrassing to still have on your site. Or you want to understand how to better use your fancy WordPress CMS. It's amazing how much better you feel when the small stuff is taken care of.
Website Maintenance – let me handle the updates!
You have a site but you're not sure you like it. You don't need an overhaul, but you do need some changes. Let's make it a website you love and that captures your vision of your business.
You like your site but you would like some small code changes: color scheme updated, layout errors corrected, random useless icons removed.
Check for broken links, misspellings, improper grammar.
Training – Are you getting the most from your fancy new site? I enjoy helping people become more comfortable with technology.
You prefer to create your site yourself but would like someone in your corner to help with the rough spots.
Website design and development
$1200 – 2000
You want a website and I can help with that! You want your site to be:
Custom designed to help you meet your business goals.
Beautiful on all screen sizes.
Made on WordPress or another platform of your choice.
Optimized for SEO and User Experience.
Thoroughly tested, proofread, and grammar checked.
Easy for you to update your content, blog posts, and galleries. One hour of training is included so you'll feel confident in your ability to manage your site.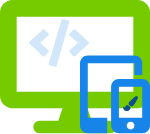 Website design and development, custom code, branding, UX research, social media management
$3000+
You want a website and quite a bit more. Customization is key to your business plan.
Website design and development included
Your brand needs clarity. Defining your brand tells your customer who you are. Consistency builds your reputation and your customer's trust.
Your website has to have a higher level of functionality with custom code, e-commerce, or specialty plugins.
Your current site isn't performing well and you need an audit of Google Analytics and a review of your UX design. We'll research why customers aren't engaging with your site and make improvements.
Your marketing could use some help. Social Media is your friend, but you need to focus on the platforms your customers are on, deliver them the content they are looking for, and provide a solution to a problem they may not even know they have.
Interested in working with me?