You want a website. I can help with that!
I love creating websites that truly express your vision. Need a WordPress site that you can amend at your whim? A lightning-fast page coded with HTML & CSS? Training? Or just a bit of assistance updating your site? I can help.
Lisa Savoie constructed our non-profit's website, managed the launch, and provided documentation/training to ensure that my staff is equipped to maintain the website long-term. Throughout this process, Lisa exceeded our expectations. She is knowledgeable, yet also capable of communicating clearly with non-technical staff. She works efficiently; this project was completed well ahead of our anticipated launch date. She communicates clearly and regularly. Importantly, her work product is extremely high quality. But, perhaps even more importantly, the process itself was seamless and dare I say it… enjoyable!

Heather Finnegan, Director, TCF
Services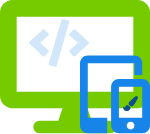 Custom Websites
Let's make a website you love and that captures your vision of your business. Custom designed to help you meet your business goals. Easy for you to update your content, blog posts, and galleries.
Tech Support
Someone in your corner to help with the rough spots, answer questions, and teach you how to make the most of your site. I can also save you precious time updating plugins and making sure the details are right.
Solutions
You're considering hiring a developer. Which means you're looking for solutions.
John & I wanted to give an extra special thank you for all your hard work, time, diligence & mostly, patience in working with us! You were beyond amazing to work with! Your attention to detail is incredible & that was exactly what we needed.

Pam Burton, owner, clothology:135
What is a website? It is a story. It's the story of your aspirations.
Quick Links
Recent Posts